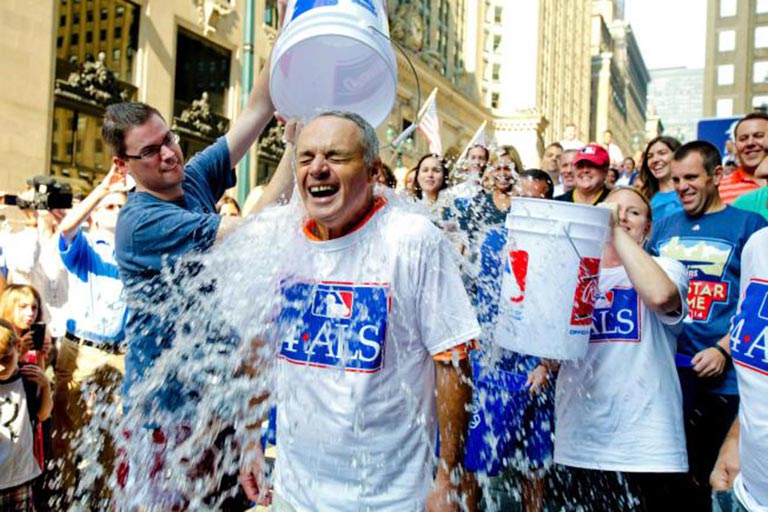 Social media provides a valuable platform to challenge conceptions disseminated by mainstream media and education that are assumed to be the complete story. However the motivations and integrity of many supposedly political posts can be questionable. One of the most important pillars of capitalism is privilege. The creation of layers of privilege is what divides us and it has become engrained. The result is an aspiration towards superiority over other people. So that sometimes even when we know something is wrong with the system under which we live, some of us (especially the middle classes) use our 'awareness' to demonstrate superiority over others.
I can't help feeling that this is what is at work in the criticism of the Ice Bucket Challenge. It's as if an (understandable) distaste for the social media narcism sometimes at work in posting-for-likes (often without donating) is driving many towards public denouncement. However, the information used to support this criticism belies the reality of the situation. 
Memes are being circulated showing how people in the underdeveloped world are deprived of clean drinking water, suggesting that engaging in the IBC is in itself a demonstration of privilege. My immediate reaction is to question how much water conservation these critics actually perform in their own everyday lives. However, even if they do, the reality is that however much water you conserve here in London or other cities in the western world, it won't make a jot of difference to the position of those short of clean water elsewhere. In the underdeveloped world poor people fall victim to industrialised manipulation of the eco-system, the transfer of water from places most in need to those that already have plenty, war and the outright immorality of water privatisation. This film (http://youtu.be/egtKx24dat8) should be of interest to those genuinely concerned.
In Gaza the "Rubble Bucket Challenge" is a political statement about how the Israeli government is reducing Palestinian homes, schools and hospitals to rubble and disrupting the water supply. In parts of India and West Africa, Coca Cola (and/or their related companies) owns water supply systems and is charging significantly more for a bottle of water than for a bottle of Coke! In Bolivia a catalyst for the revolution between 2000 & 2005 was the criminalisation of collecting rain water - yes it was a criminal offence to collect rain water! This was legislation enacted by a right wing puppet regime to prop up the US company that installed a privately owned water system and was selling water to a population at prices way beyond the means of the paltry wages they earned. Local wells were filled in and troops used to enforce the law. The Bolivian people's solution? - Revolution and the (re-)nationalisation of the water system under distributed local community management. This is why the current President Evo Morales (a working class native-American and former trade union leader) has been dubbed a "dictator" by the US media. Here in the big capitalist nations that are home to the offending corporations struggle for political change seems too much of a challenge. So instead many indulge in the smug but futile self-righteousness of deriding well intentioned people that "waste water".
To date I've simply shaken my head at this and moved on, but now we're seeing people going to the trouble of manufacturing false claims about the charities behind the Ice Bucket Challenge in a further attempt to condemn others as fools and reinforce a sense of superiority. A recent article I saw on Facebook is this: http://bit.ly/1tSdmwy. Notice how their pie chart doesn't actually match their claims? Further investigation (which is easy to do because they're, …er, charities) will reveal that every claim in the article is false. I can't help feeling that the time taken over this falsification could be better spent doing real research and watching films like the one linked to above.
So what of the Ice Bucket Challenge in the scheme of things? MND (or ALS as it's called in the US) was until now a little known disease which didn't enjoy the patronage that the many cancer charities, for example, do. Important gains have been made in the fight against cancer and HIV/AIDS as a result of awareness, and, consequentially, priority raising. I know from personal experience that MND/ALS is an extremely cruel, wasting and inevitably terminal disease that, because of lack of awareness, is usually diagnosed extremely late. In addition to misdiagnosis, professional ignorance generates conflicting palliative care advice and support which compounds the suffering of victims and their families. Even those that are just having fun with the IBC without donating have contributed to transforming this situation. As for those that have donated, according to the real figures 72.4% of the ALS Association's budget during the fiscal year ending January 2013 was used for 'program expenses' — that is the programmes and services the ALS Association delivers to the ALS community according to its mission such as professional and public education, research into ALS treatments and cures, and patient and community services[1]. 
With regard to water - well that requires credible research to build genuine political awareness, real political engagement and action. Snobbery is just part of the same old shit that privilege is built on.
1 Figures taken from Charity Navigator, one of many independent charity monitoring services.
P.S. The following may not offer a permanent solution, but you could of course also donate to Oxfam's current emergency water appeal for East Africa. I'm sure they'd rather have your money than the water you're saving from not doing the Ice Bucket Challenge.